Library Instruction Services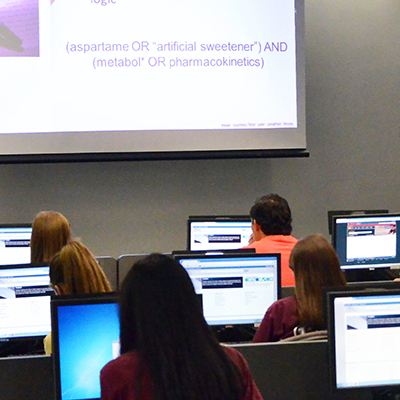 The University Libraries provides a variety of instructional services designed to help students develop their research skills. Instructional sessions can be customized to meet a range of learning objectives, from library orientations to advanced research concepts.
Course Integrated Library Classes
Let a librarian help take the confusion out of the research process for your students. Students will learn how to find, evaluate, and use resources for their assignments and research projects.
Library Class Guides
Class Guides (Summer 2018)
Online class guides provide links to key library resources and services to help your students with their research. Explore our list of current class guides or request a custom guide for your class today.
Curriculum Development & Tools
Are you designing curriculum, creating a research assignment, or exploring resources for your class? Collaborate with a librarian to customize learning tools and assignments to meet your teaching needs.
Library Tours
The University Libraries spans 5 different locations on the A&M campus. Library tours can help students get acquainted with the organization of our libraries, collections, and basic library help services.
Library Workshops & Seminars
The University Libraries offers a variety of workshops and seminars on special topics. Learn more about bibliographic management software, GIS data, copyright, and much more.
Library Orientations & Outreach
Do you have a group interested in learning more about the University Libraries? We can customize a library presentation for your student organization, campus unit or group meeting.