Meet Joel Kitchens, Humanities Librarian
By Marketing and Communications | 02-23-2016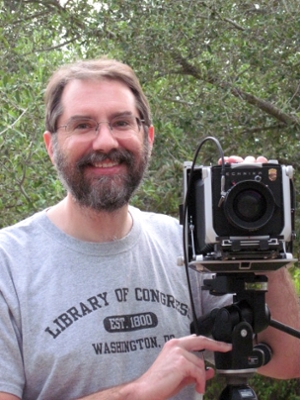 "The library is essentially a laboratory for historians," is Joel Kitchens' mantra. As a Humanities librarian, Joel connects researchers with the sources they need, specializing in history, art history and architecture history. His love for photography sets him apart from other librarians, and inspired him to pursue a dissertation on the importance and impacts of San Antonio missions.
 Joel has been interested in photography since childhood, when cameras seemed like a neat toy to him. As a voracious reader, he read many magazines and books to become self-taught on the art of photography. It was not until he got to college that he actually took his first black and white photography course, and learned the fundamentals of working in a dark room.
It was around this time that his family also took a trip to the UK and Joel was able to use a borrowed 35 mm to document their 6-week stay. He even went back to England later in his college years to photograph even more historical sites, with Rievaulx Abbey being one of his favorites. His trips to England instilled in Joel a love for old architecture, and where he found his passion for photographing it.
Since moving to College Station, Joel began to take trips to San Antonio to photograph the missions in and around the city. After photographing several San Antonio missions, he started to read more about their history in an effort to take more informed photographs. During this search for information, he became dissatisfied with the facts available and realized there was a story behind the missions that still needed to be told.
From this realization, Joel began to structure a dissertation on what the missions mean to different groups of people, and how this meaning has changed over the years. One focus has been on the way that pictures of the missions have often been used to market San Antonio. The pictures of the old missions are often used to show the romantic or historic feel of the city.
In July of 2015, UNESCO granted World Heritage Site status to all five extant San Antonio missions. 2018 marks the 300
th
anniversary of the founding of San Antonio de Valero, more commonly known as the Alamo. While central to tourism in San Antonio, many stories of the people and missions that surround the city are still missing. Through his research and photography, Joel hopes to tell the story of the San Antonio missions in a way that helps fill in the gaps other scholars have left.