About Maps and GIS
Maps assistance and service hours are limited at this time.
We will resume planning for limited fall semester services over the summer months.
Access to the maps collection will be predominantly filled through digitization but appointments can be made to view the items.
Request a map scan or access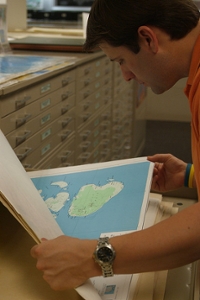 Maps & GIS, located on the second floor of Evans Library, provides paper map and digital geospatial resources and services. Geographic information systems (GIS) collect, manage, analyze, and visualize spatial information.