Click here to see previous winners!
What is the Edible Books Festival?
Around the world, bibliophiles, book artists and food lovers alike gather to celebrate the art of books through food. Participants create an "edible book", which is a culinary interpretation of any book, character, literary pun, or plot.
Edible Books Festival is open to all faculty, staff, students and the community-at-large. Photographs of the event, winners, and all edible books will appear in the Edible Book Festival photo gallery after the event.
The Edible Books Festival Events at Texas A&M University will be held on March 31st. 
Location - 1st Floor, Evans Library (Johnette and Elwyn Bass Library Commons, next to Starbucks)
Prizes:
All participants will receive a free t-shirt (while supplies last).
Winners in each category will receive a $100 gift card to Barnes & Noble.
Winner of "Best in Show" will receive a $150 Barnes & Noble gift card.
Schedule of Events:
8:00 am - Noon
Entries accepted on first floor of Evans Library (in the Johnette and Elwyn Bass Library Commons area). 
Noon - 1:00 pm
Judging begins and the public can vote for "People's Choice" award. Snacks will be provided after judging.
1:00 pm
Celebrity judges announce winning entries.
1:00 pm - 3:00 pm
Entries remain on disply for the public to view.
3:00 pm - 4:00 pm
All entries must be picked up by participants. 
Guidelines
All creations must be made of "edible" materials. (No metal, cardboard, plastic, etc.)

Entries must be inspired by a book, literary figure, book character, literary pun, or plot.

Creations must survive at room temperature, they will not be refrigerated.

All entries will be photographed and added to our Edible Book Festival gallery.

The University Libraries reserves the right to reject any entry that is unsuitable for the festival.

All entries not picked up by 4pm on March 31st will be disposed of.
Edible Books 2015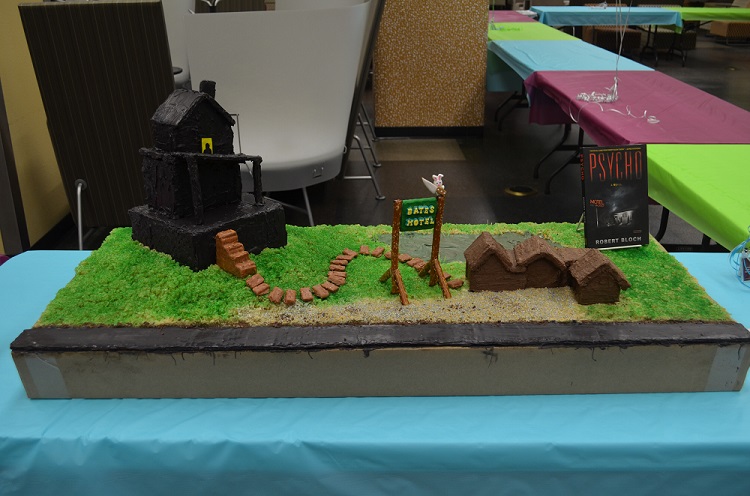 Bates Hotel
The Hoard
Award Categories
A panel of judges will select winners for the various categories. The 2016 categories include:
Punniest
Grossest
Best Construction
Best Children's Entry (12 and under)
Best Staff/Faculty Entry
Best Bard (Shakespeare-themed)
People's Choice
Best Group