Wild/LIFE: Behind the Pages with Two Texas Artists
By Marketing and Communications | 06-20-2022
The University Libraries is hosting the "Wild/LIFE: Guild of Book Workers Triannual Exhibition" at Cushing Memorial Library and Archives until June 24, 2022. The Guild of Book Workers is a book artists' organization that promotes interest in and awareness of the tradition of the book and paper arts. Included in the exhibit is work by two Texas-based artists ­­– The Unknown Vegetable by Patrice Miller and Dandelion by Elizabeth Mellott. Both bookbinders attended the exhibit opening and shared their insights on the exhibition's theme: Wild/LIFE.
---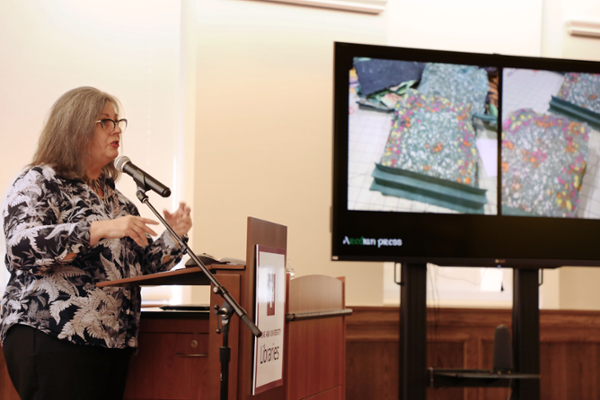 Patrice Miller is a retired engineer turned bookbinder. She enjoys experimenting with structure and form, combining her love of art with her engineering background. Miller is inspired by Malcolm Gladwell's theory that it takes 10,000 hours to master a skill. Miller told the exhibit opening crowd, "I'm in my sixties already, so I don't have that many 10,000 hours left," so she mainly focuses on creating miniature book editions to challenge herself in a wide variety of bookbinding skills in the most time-efficient way possible.
However, when it came to designing The Unknown Vegetable, she challenged herself in a different way. Miller is a long-time fan of author Edward Gorey, having a respectable home collection of his works. When the Guild of Book Workers' newest theme of Wild/LIFE came out, Miller settled on bringing Edward Gorey's The Unknown Vegetable to life through unique bookbinding.
She was determined to do this author's work justice and held in her mind the question: "How does one depict a vengeful vegetable?" Through much experimentation with momigami, collage, painting, embroidery and even resorting to picking up discarded paper scraps from the floor and reapplying them strategically, Miller eventually created a book that provided the answer – a book that "looked very viable, looked very alive, and disingenuously non-threatening." The book's binding is a structure that mimics an unknown vegetable, whose leaves may then be unfurled to reveal the secret, a book that invites the reader to fall inside.
---
The second Texas-based artist whose work is on display in the exhibit is Elizabeth Mellott. She is a photography professor at Collin College in Plano, Texas and is an active artist as well. Her book, Dandelion, is an accordion-bound cyanotype book. Mellott was inspired by the style of Anna Atkins, who used cyanotype prints to create botanical records of plants. Cyanotype is one of the earliest forms of photography, dating back to 1842. Mellott says that she often will carry jars of the mixing agents, as well as paper, into the field.
The importance of cyanotype for botanical plant records cannot be underestimated. According to Mellott, cyanotype captures the structure and shape of plants in a way that other forms of photography cannot. Dandelion is part of a larger body of work that Mellott is currently expanding. Mellott says "I am looking at our natural landscape right now. So this collection of work is not necessarily invasive or native or pollinator plants. It is the plants that I see when I walk out of my yard in North Texas, and I am documenting those plants with no bias to a specific plant type."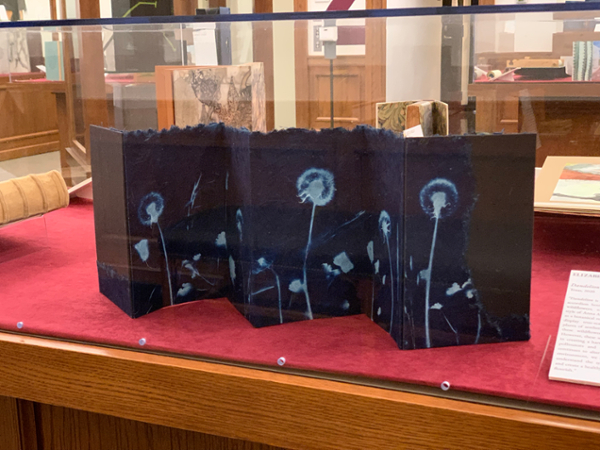 Mellott's Dandelion book is a photogram. She placed dandelions directly on treated paper, then exposed the whole set-up to UV light, in this case, the North Texas sun. The process does not enlarge or shrink the sizes of the subject, but rather records sizes directly. This makes cyanotype wonderful for botanical records but does pose challenges for a bookbinder. Mellott's book heights are, by necessity, the heights of the plants she is photographing. The Dandelion book is 30 inches high. However, other plants Mellott is working on are even taller, which poses a challenge in creating a stable accordion-bound book. One example that Mellott described is "right now I am working on turk's-cap, which will be a really tall book, which, gives me problems to make it stand up." Turk's cap can grow 4-8 feet in height. 
---
Both Miller's and Mellott's works are available to view for a limited amount of time. Come see their works and those of other bookbinders exploring the Wild/LIFE theme at Cushing Memorial Library and Archives in the heart of the Texas A&M University campus while you have a chance. Cushing Library is open M-F, 8:00 a.m. – 5:00 p.m.
A companion digital exhibition, which includes additional works not seen in the traveling exhibition, is available at: wildlifegbwexhibition.wordpress.com.
For press inquiries, please contact Ivy Mestrovic, Communication Specialist II, Texas A&M Libraries; 979.458.2420 or imestrovic@library.tamu.edu.
For more information about the exhibition and the Guild of Book Workers, please visit guildofbookworkers.org/content/wildlife.
---
About the Texas A&M Universities Libraries
Comprised of five unique libraries, the Texas A&M University Libraries is a hub of resources, spaces and persons supporting the success of research, learning and teaching at Texas A&M. Our priorities are to advance student success and to be a partner in innovative research while providing a respectful physical and digital home to all students, staff, faculty and researchers. To learn more visit library.tamu.edu.