Our Vision, Mission & Values
Our Vision
The University Libraries will be the indispensable hub of discovery, learning & creativity at Texas A&M University.
Our Mission
To enrich minds and inspire learning by providing quality information, services, and resources to the Texas A&M University Libraries global community.
The pillars are:
A distinguished Collection of information resources unbounded by place and preserved for future generations;
A suite of robust Services and a Team exceeding customer expectations;
An inspirational Environment that delights and invites use;
And an Organizational Culture celebrated for its trust, openness to risk and strengthened by its collaboration and diversity.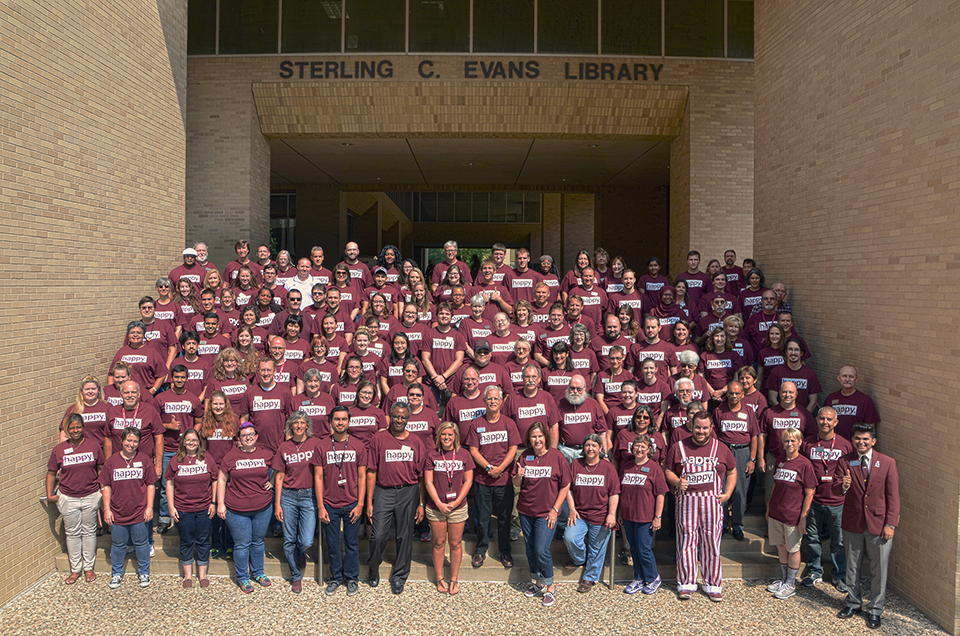 Our Shared Values
Quality
We commit to high-quality work for the benefit of the campus and each other. We experiment and learn as we partner with our communities and provide outstanding services, which builds a highly regarded reputation.
Continuous Learning
We model a commitment to continuous learning and improvement by prioritizing professional development, providing all employees avenues to take on progressive roles in the Libraries. We push creative boundaries and support new initiatives.
Person-Centered
We recognize the needs, goals, interests, and ambitions of individuals. We mentor and guide new and established members of our communities as they navigate the library and university culture, professional development, or career growth.
Inclusion & Belonging
We intentionally create and sustain safe, brave, and accessible environments where everyone is respected for their individual identity and intersecting group memberships. We value individuals' abilities, contributions, and opinions. As a community and as individuals, we work to increase awareness of and strive to dismantle practices, systems, and beliefs that do not support equity and inclusion.
Dignity & Respect
We honor the inherent value of everyone. We build trust with our colleagues and see each interaction as an opportunity to expand upon that trust.
Collaboration
We work across and within groups to pursue our common goals, recognizing the diverse strengths and backgrounds of our colleagues. We strive to identify and include all stakeholders and prioritize clear and open communication.