Cushing Library Shares Unique and Rare Artifacts
By Marketing and Communications | 02-01-2022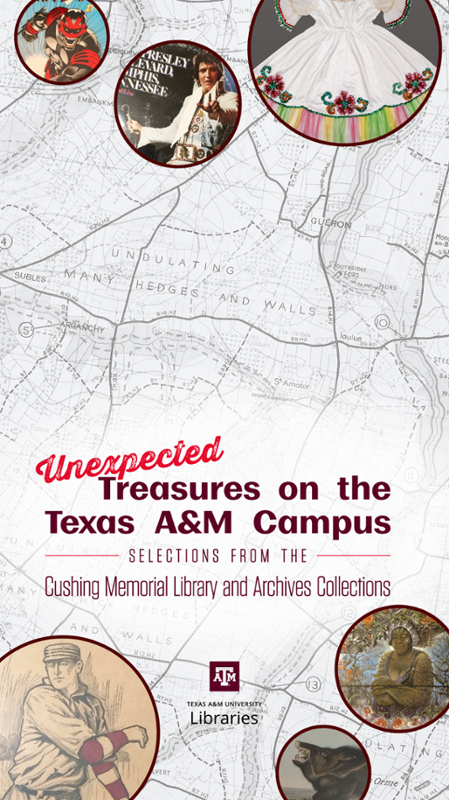 The Cushing Memorial Library and Archives is pleased to announce their new exhibition: "Unexpected Treasures on the Texas A&M Campus: Selections from the Cushing Memorial Library & Archives Collections".  The exhibit will run from January 18 – April 22, 2022. Items in the exhibit showcase unique and rare items including a stage dress worn by legendary performer Lydia Mendoza, Ancient Roman artifacts from the First Century AD, A&M memorabilia (including a 1939 signed football), Afrofuturism comic books, the first edition of The Hobbit, and a diary written during World War II by a Canadian resident who was stranded by the Third Reich's occupation of the Netherlands, unable to return home to Winnipeg.
"With this exhibition, we want to show how varied our collections are," said Dr. Francesca Marini, Programming and Outreach Librarian at the Cushing Memorial Library and Archives. "Everyone is welcome to use the materials housed in the library, and we hope this exhibition will inspire visitors to explore the breadth and depth of our collections." 
The exhibition is open Monday through Friday from 9:00 am – 4:30 pm.
For more information about the exhibit, contact Francesca Marini, at 979.458.7882 or fmarini@library.tamu.edu.
---
About Texas A&M University Libraries
Comprised of five unique libraries, the Texas A&M University Libraries is a hub of resources, spaces, and persons supporting the success of research, learning, and teaching at Texas A&M. Our priorities are to advance student success and be a partner in innovative research while providing a respectful physical and digital home to all students, staff, faculty, and researchers. To learn more visit library.tamu.edu.