Texas A&M University Libraries Host Wild/LIFE Exhibit
By Marketing and Communications | 04-26-2022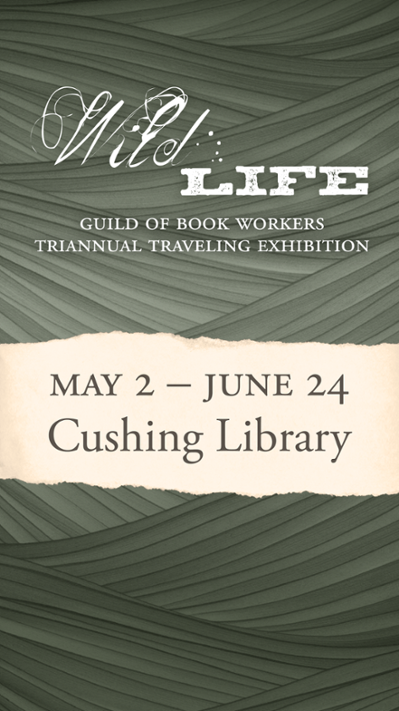 TAMU Libraries is hosting the traveling exhibition Wild/LIFE: Guild of Book Workers Triannual Exhibition at Cushing Memorial Library and Archives, from May 2 through June 24, 2022.
This exhibition features approximately 50 works by members of the Guild of Book Workers, a book artists' organization that promotes interest in and awareness of the tradition of the book and paper arts by maintaining high standards of workmanship, hosting educational opportunities and sponsoring exhibits. Members were invited to interpret the theme of "wildlife" in any way they wished, be it literal or abstract, humorous, or serious.
Jeanne Goodman, Conservator for the University Libraries, and Kevin M. O'Sullivan, Curator of Rare Books & Manuscripts, stated: "We are delighted and honored that Texas A&M was chosen as a host site for this wonderful traveling exhibit. Visitors are sure to enjoy seeing the innovative work on display by some of the country's greatest binders and book artists."
To celebrate the opening of the exhibition, Cushing Library and the Lone Star Chapter of the Guild of Book Workers will host a reception that is free and open to the public, featuring the two Texas-based artists exhibited in the show: Elizabeth T. Mellott and Patrice Miller. The reception will be held in Cushing Library on May 6, 2022, at 3:30 to 5:00 p.m.
Cushing Library is open M-F, 8:00 a.m. – 5:00 p.m.
A companion digital exhibition, which includes additional works not seen in the traveling exhibition, is available at: wildlifegbwexhibition.wordpress.com.
For press inquiries, please contact Ivy Mestrovic, Communication Specialist II, Texas A&M Libraries; 979.458.2420 or imestrovic@library.tamu.edu.
For more information about the exhibition and the Guild of Book Workers, please visit guildofbookworkers.org/content/wildlife
---
About the Texas A&M Universities Libraries
Comprised of five unique libraries, the Texas A&M University Libraries is a hub of resources, spaces and persons supporting the success of research, learning and teaching at Texas A&M. Our priorities are to advance student success and to be a partner in innovative research while providing a respectful physical and digital home to all students, staff, faculty and researchers. To learn more visit library.tamu.edu.