New Exhibition Celebrates 25 Years of Collecting at Cushing Memorial Library & Archives
By Marketing and Communications | 10-20-2023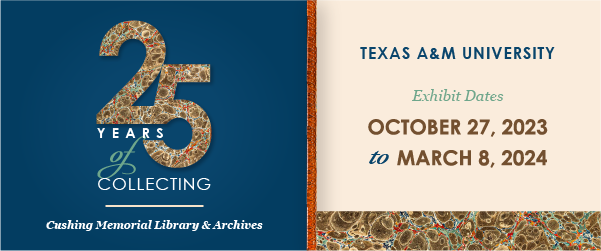 A look into Texas A&M's Cushing Memorial Library & Archives' extensive collections that span cultures, geography, and time will be on display at "25 Years of Collecting," an exhibition on display at Cushing from Oct. 27, 2023 - March 8, 2024. Cushing, Texas A&M's first stand-alone library, was renovated in 1998. The exhibition commemorates the library's rededication in that year as the new home of Special Collections and University Archives.
The rededication established Cushing as the university's first dedicated, open-to-the-public repository safeguarding historical treasures and research collections.
"Historical manuscripts, rare books, unique artifacts, period maps and other important items that demonstrate the depth and breadth of the Libraries' holdings will be on display," said Robin Hutchison, Associate University Librarian of Special Collections & Archives. "Each of these items tells a story that captivates and informs, while supporting programming designed to foster curiosity, exploration, introspection, and scholarly engagement."
25 Years of Collecting – Cushing Memorial Library & Archives includes:
• "The Works of Geoffrey Chaucer: now newly imprinted," published in 1896, that has been called the most beautifully printed book since the Gutenberg Bible.

• A Bowie knife lost or jettisoned by a Mexican army unit as it camped near Wharton near the end of the Texas Revolution.

• "The Natural History of Carolina, Florida, and the Bahama Islands," the first comprehensive, illustrated survey of the flora and fauna of the British-American colonies.

Additional items in the exhibition span centuries, continents, and cultures, exemplifying the breadth of the Libraries' holdings. 

Cushing Library is open Monday - Friday, from 9 a.m. - 5 p.m.

This exhibition is free and open to the public. 

For more information on how to request items to study in Cushing's Kelsey Reading Room, visit tx.ag/ReadingRoom.
Texas A&M University Libraries
Follow Us on Instagram 
---
About Texas A&M University Libraries

Comprising five unique libraries, the Texas A&M University Libraries are a hub of resources, spaces and professionals supporting the success of research, learning and teaching. The Libraries' advance student success and partner in innovative research, while providing a physical and digital home to all students, staff, faculty and researchers. To learn more visit library.tamu.edu.